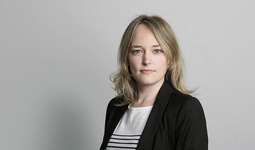 Lehrgebiet: Human Factors and Gender Studies
Büro: 01.203
Labor: 03.207
Telefon: +49 208 88254-813
E-Mail:

Nach dem Bachelor- und Masterstudium der Angewandten Kommunikations- und Medienwissenschaften und Kulturwirt an der Universität Duisburg-Essen, promovierte Sabrina Eimler im Bereich Medien- und Sozialpsychologie (Prof. Dr. Nicole Krämer, Universität Duisburg-Essen) zum Thema "All the Web's a Stage and all Wo(men) Merely Networkers – Zur Rolle von  Geschlechterstereotypen bei der Produktion und Rezeption von Profilen in Online-Business-Netzwerken."
Interdisziplinarität, Kreativität, Heimatverbundenheit und Begeisterung für die Gestaltung und Auswirkungen neuer Technologien brachten sie schließlich an die HRW. Seit Januar 2015 lehrt und forscht Professorin Dr. Sabrina Eimler im Institut Informatik. Sie ist Mitinitiatorin und Vorstandsmitglied des Instituts Positive Computing, Mitglied im Graduierteninstitut NRW, in verschiedenen Fachgesellschaften und Gutachterin diverser wissenschaftlicher Fachzeitschriften.
Sie ist aktiv als Impulsgeberin und Lehrende für Fortbildungsprogramme und Studiengänge (z.B. im Masterstudiengang Innopreneurship an der Universität Duisburg-Essen) im Bereich Digitalisierung. Die Erhöhung des Frauenanteils in der Informatik sowie die stärkere Berücksichtigung von Diversity sind ihr ein besonderes Anliegen.
ARBEITS- UND FORSCHUNGSSCHWERPUNKTE
Frauen und Digitalisierung, women in tech
Sensibilisierung für Stereotype, Vorurteile und Diskriminierung
Stereotype in Selbstdarstellung und Personenbewertung (insbesondere im Bereich Recruiting und Gründung)
Moderne Entspannungsmethoden und positiv-psychologische Interventionen unter Verwendung neuer Technologien; Technostress
Augmented und Virtual Reality für Lebenslanges Lernen und die Zukunft der Arbeit
Akzeptanzforschung, z.B. im Bereich autonomes Fahren, Arbeitswelten der Zukunft
WISSENSCHAFTLICHE EINRICHTUNGEN
Labor: Human Factors & Gender Studies
ICAROS
Napshell
AR/VR-Systeme (HoloLens, Oculus Rift, Oculus Go)
Roboter wie Cozmo, MiP, Dash&Dot, Sphero (zur Anwendung in Kindergärten und Schulen)
Kameraausrüstung, Fotostudio
Diverse mobile Gerät
Ausstattung zur Durchführung qualitativer und quantitativer Studien
LEHRVERANSTALTUNGEN
Grundlagen der Psychologie und Ergonomie
Kognitions-, Kommunikations- und Medienpsychologie
Angewandte Statistik
Sozialpsychologie und Positive Psychologie
Positive Computing und Diversity in der Mensch-Technik-Interaktion
Human Factors und Ergonomie
PROJEKTE
Silverlighting

VR, AR, IT im intelligenten Gebäudebetrieb

VR-Coop-Lab

Positive Computing
WISSENSCHAFTLICHE MITARBEITER*INNEN
AUSGEWÄHLTE PUBLIKATIONEN
2020
81.
A third-person perspective on phubbing: Observing smartphone-induced social exclusion generates negative affect, stress, and derogatory attitudes Artikel
In: Cyberpsychology: Journal of Psychosocial Research on Cyberspace, 14 (3), 2020.
80.
Receiving Robot's Advice: Does It Matter When and for What? Inproceedings
In: International Conference on Social Robotics, S. 271–283, 2020.
79.
Moral robots? How uncertainty and presence affect humans' moral decision making Inproceedings
In: International Conference on Human-Computer Interaction, S. 488–495, 2020.
78.
Experiencing AI in VR: a qualitative study on designing a human-machine collaboration scenario Inproceedings
In: International Conference on Human-Computer Interaction, S. 299–307, 2020.
77.
Augmenting the Human-Robot Communication Channel in Shared Task Environments Inproceedings
In: International Conference on Collaboration Technologies and Social Computing, S. 20–34, 2020.
76.
Navigating a Heavy Industry Environment Using Augmented Reality-A Comparison of Two Indoor Navigation Designs Inproceedings
In: International Conference on Human-Computer Interaction, S. 3–18, 2020.
2019
74.
What if I Lost it? When the Mere Imagination of Smartphone Absence Causes Anxiety Artikel
In: 2019.
73.
I feel what they say: the effect of social media comments on viewers' affective reactions toward elevating online videos Artikel
In: Media Psychology, S. 1–27, 2019.
72.
Relax Yourself-Using Virtual Reality to Enhance Employees' Mental Health and Work Performance Inproceedings
In: Extended Abstracts of the 2019 CHI Conference on Human Factors in Computing Systems, S. 1–6, 2019. GOOGLE SCHOLAR PROFIL