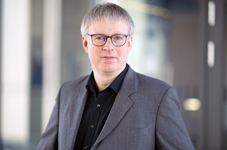 Lehrgebiet: Angewandte Informatik, Mensch-Maschine-Interaktion
Büro: 01.216
Labor: 03.213
Telefon: +49 208 88254-804
E-Mail:

Prof. Dr. Stefan Geisler ist seit dem Wintersemester 2010 an der Hochschule Ruhr West. Er bekleidet dort die Professur für Angewandte Informatik / Mensch-Maschine-Interaktion und ist Studiengangsleiter für den Studiengang Mensch-Technik-Interaktion. Seit 2016 leitet er das Forschungsinstitut Positive Computing, ist Mitglied im gleichnamigen Forschungsschwerpunkt sowie im Forschungsschwerpunkt Intelligente Mobilität. Im Graduierteninstitut des Landes NRW ist er Sprecher der Fachgruppe Medien und Kommunikation.

In Lehre und Forschung beschäftigt er sich mit der Frage, wie Computersysteme, Mobilgeräte, Elektroniksysteme im Fahrzeug u.v.m. so entwickelt werden können, dass sie für die späteren Benutzer gut verständlich und ohne Probleme bedienbar sind. Dabei betrachtet er in seinen Lehr- und Forschungsaktivitäten den gesamten Usability Engineering Prozess, von der Ideenfindung, Protoypenentwicklung, Benutzertests bis zur Implementierung. Insbesondere interessiert ihn die Entwicklung neuer Interaktionsformen und wie diese für ein intuitives Bedienkonzept und ein gelungenes Nutzungserlebnis (User Experience) genutzt werden können, sowie Möglichkeiten, spätere Nutzer*innen in den Entwicklungsprozess zu integrieren und Bedienschnittstellen auf ihre Wünsche und Anforderungen zu optimieren. Ein intensiv bearbeitetes Anwendungsfeld ist das Automobil, insbesondere neue Bedienmethoden und deren Auswirkung auf die Fahrqualität und Konzepte für hochautomatisiertes Fahrzeug. Dabei stehen auch Vertrauen in und Beherrschbarkeit von neuen Automobiltechnologien durch alle Verkehrsteilnehmer*innen im Fokus, sowohl mit Methoden des User Onboardings als auch durch kontinuierliche passgenaue Visualisierung dazu notwendiger Informationen.

Stefan Geisler hat mehrere Forschungsprojekte bearbeitet bzw. ist an aktuellen beteiligt, darunter zu den Themenfeldern Golden Rules im Automotive HMI für einen Automobilhersteller, Usability von Assistenz- und Informationssystemen im häuslichen Umfeld (UsAHome, FH Struktur), Natural User Interfaces auf Multi-Touch-Tischen (u.a. auch für ein Kommunikationssystem zur Förderung des Dialogs zwischen Behörden und Bürger*innen mittels Innovationsgutschein), Benutzerschnittstellen für sicherheitskritische Anwendungen (BMBF-Projekt AHA) sowie Barrierefreie Bedienkonzepte. Im Rahmen von Positive Computing (FH Kompetenz) wird das Themenfeld interkulturelle und generationsübergreifende Innovationsentwicklung im Rahmen einer Promotion betreut, im Rahmen des Forschungsschwerpunkts Intelligente Mobilität eine Promotion zu natürlichen Benutzerschnittstellen in (teil-)automatisierten Fahrzeugen.
ARBEITS- UND FORSCHUNGSSCHWERPUNKTE
Mensch-Technik-Interaktion, Natural User Interfaces,  Optimierung von Bedienkonzepten für Mobilgeräte, Anforderungsanalyse, Konzeptentwicklung, Usability Tests

Mensch-Maschine-Interaktion

 im Fahrzeug

Fahrzeuginformationstechnik

, Fahrerassistenzsysteme, Infotainment, Fahrzeugbusse, Telematik und Car-to-X Kommunikation, nachhaltige Mobilität/Elektromobilität
PROJEKTE
Projekt mit Verlinkung

???

???
WISSENSCHAFTLICHE MITARBEITER*INNEN
AUSGEWÄHLTE PUBLIKATIONEN
2020

82.

Towards a Wellbeing-driven System Design for Intergenerational Collaborative Innovation: A Literature Review Konferenzbeitrag

In: Proceedings of the Annual Hawaii International Conference on System Sciences, 2020.

81.

Implicit Cooperation: Emotion Detection for Validation and Adaptation of Automated Vehicles' Driving Behavior Artikel

In: arXiv preprint arXiv:2003.13044, 2020.

80.

Maneuver-based Driving for Intervention in Autonomous Cars Artikel

In: arXiv preprint arXiv:2003.12496, 2020.

2019

79.

We are ``not'' too (young/old) to collaborate: Prominent Key Barriers to Intergenerational Innovation Konferenzbeitrag

In: Pacific Asia Conference on Information Systems, 2019.

78.

Why Does Cultural Diversity Foster Technology-enabled Intergenerational Collaboration? Artikel

In: Procedia Computer Science, Bd. 161, S. 15–22, 2019.

77.

Why Should the Q-method Be Integrated Into the Design Science Research? A Systematic Mapping Study Artikel

In: arXiv preprint arXiv:1908.05203, 2019.

76.

Group-centered framework towards a positive design of digital collaboration in global settings Artikel

In: arXiv preprint arXiv:1904.00107, 2019.

75.

Towards humane digitization: a wellbeing-driven process of personas creation Konferenzbeitrag

In: Proceedings of the 5th International ACM In-Cooperation HCI and UX Conference, S. 24–31, 2019.

74.

8th Workshop Automotive HMIs: UI Research in the Age of New Digital Realities Artikel

In: Mensch und Computer 2019-Workshopband, 2019.

73.

8th Workshop Automotive HMIs: User Interface Research in the Age of New Digital Realities Konferenzbeitrag

In: Mensch und Computer 2019, 2019.