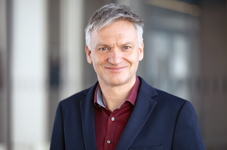 Lehrgebiet: Energie- und Informationstechnik
Büro: 01.211
Labor: 04.107
Telefon: +49 208 88254-808
E-Mail:

Nach der Ausbildung zum Kommunikationselektroniker bei der Grundig AG studierte Gerd Bumiller Nachrichtentechnik an der Friedrich-Alexander-Universität Erlangen Nürnberg. Seine Promotion erfolgte an der FAU Erlangen-Nürnberg im Jahr 2009 mit dem Thema: "Gleichwellentechnik für schnell adaptive ad-hoc Kommunikationsnetze über Stromversorgungsleitungen".
1997 folgte eine Tätigkeit bei einem mittelständischen Unternehmen im Bereich Entwicklung, Projekt- und Forschungsleitung sowie die Technologieverantwortung für alle Powerline Kommunikationsprodukte dieser Firma. In enger Zusammenarbeit mit mehreren nationalen und internationalen Hochschulen wurde eine Reihe von R&D Projekten im Bereich der drahtgebundenen und drahtlosen Kommunikation sowie Messtechnik und Metering umgesetzt. In dieser Funktion nahm Gerd Bumiller an der Open Metering Initiative von ZVEI und Figawa teil und ist Mitglied in der nationalen Organisation für Standardisierung DKE.
Von 2006 bis 2010 sowie von 2014 bis 2018 unterstützte Gerd Bumiller das IEEE Technical Committee for Power Line Communication (TC-PLC) der IEEE ComSoc als Secretary. Von 2018 bis 2022 war Gerd Bumiller der Chair des TC-PLC.
Im Jahr 2011 erhielt Gerd Bumiller einen Ruf an die Hochschule Ruhr West an das Institut Informatik. Von 2012 bis 2015 begleitete er die Stiftungsprofessur der Sparkasse Bottrop und war Koordinator des Beirats des Fachbereichs. Von 2018 bis 2022 hatte er die Studiengangsleitung des Bachelor-Studiengangs Energieinformatik inne.
Gerd Bumiller führt an der Hochschule eine Forschungsgruppe, aus der bereits drei kooperative Promotionen hervorgegangen sind. Derzeit befinden sich zwei wissenschaftliche Mitarbeiter im Promotionsprozess, weitere Mitarbeiter:innen befinden sich in der Vorbereitung darauf. In IEEE Xplore sind aus dieser Zeit bereits 40 Veröffentlichungen auf Konferenzen der Communication, Instrumentation & Measurement und Power Energy Society, sowie 3 Journalbeiträge in IEEE Transaction on Instrumentation and Measurement veröffentlicht.
ARBEITS- UND FORSCHUNGSSCHWERPUNKTE
Signalverarbeitung, SmartGrids, Power Line Communication, Smart Metering,
Short Range Funksysteme, Gleichwellentechnik, Netzwerke
WISSENSCHAFTLICHE MITARBEITER*INNEN
AUSGEWÄHLTE PUBLIKATIONEN
2019

20.

Power Quality Analysis in non-stationary mains frequency conditions Konferenzbeitrag

In: International ETG-Congress 2019; ETG Symposium, S. 1–6, 2019.

19.

Security of ITU-T G. 9903 and G. 9904--a New Approach for a Systematic Analysis Konferenzbeitrag

In: 2019 IEEE International Symposium on Power Line Communications and its Applications (ISPLC), S. 1–6, 2019.

2018

18.

Analysis of security features in DLMS/COSEM: Vulnerabilities and countermeasures Konferenzbeitrag

In: 2018 IEEE Power & Energy Society Innovative Smart Grid Technologies Conference (ISGT), S. 1–5, 2018.

17.

Accurate low access impedance measurements with separated load impedance measurements on the power-line network Artikel

In: IEEE Transactions on Instrumentation and Measurement, Bd. 67, Nr. 10, S. 2282–2293, 2018.

16.

Investigation for a Secure and Cost-efficient Connection of Substations to the Public Network Konferenzbeitrag

In: NEIS 2018; Conference on Sustainable Energy Supply and Energy Storage Systems, S. 1–6, 2018.

2017

15.

Measurement setup for notch evaluation of narrowband PLC devices Konferenzbeitrag

In: GLOBECOM 2017-2017 IEEE Global Communications Conference, S. 1–6, 2017.

14.

Anonymity-Preserving Methods for Client-Side Filtering in Position-Based Collaboration Approaches Konferenzbeitrag

In: International Conference on Collaboration Technologies, S. 1–13, 2017.

13.

Technological Feasibility of a Smartphone-Based System to Integrate Volunteers into Professional Rescue Processes Konferenzbeitrag

In: International Conference on Collaboration Technologies, S. 53–67, 2017.

2016

12.

Technologie die beflügelt Konferenzbeitrag

In: Digitalisierung & Gesellschaft, S. 32-33, InnovationsAllianz der NRW-Hochschulen e.V., 2016, ISBN: 978-3-9816422-5-4.

11.

PCo -Institut Positive Computing Artikel

In: Forschung an Fachhochschulen - FöRDERLINIEN: FH KOMPETENZ & FH STRUKTUR, S. 6, 2016, (PROJEKTBüRO Nachhaltige Forschung an Fachhochschulen in NRW, c/o zefo | Zentrum für Forschungskommunikation).