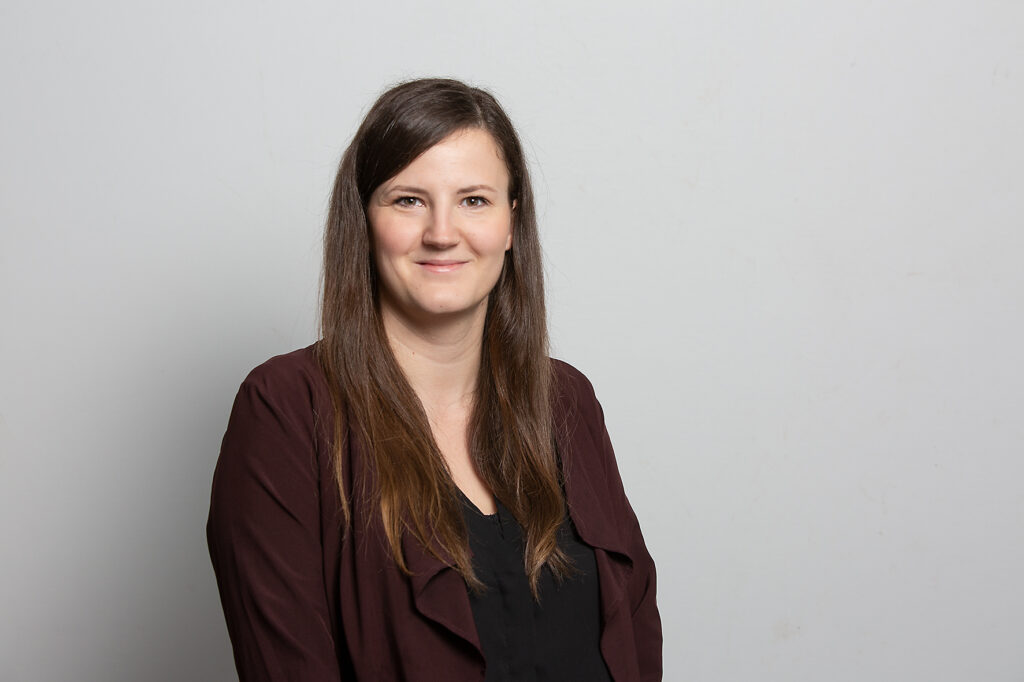 Büro: 01.206
Telefon: +49 208 88 254-794
Dr. Carolin Straßmann studierte Angewandte Kognitions- und Medienwissenschaften (Bachelor- und Master) an der Universität Duisburg-Essen. Anschließend arbeite sie am Lehrstuhl für Sozialpsychologie: Medien-, und Kommunikation (Leitung Prof. Dr. Nicole Krämer) als wissenschaftliche Mitarbeiterin in verschiedenen BMBF Projekten. Ende 2018 schloss sie ihre Promotion zum Thema "All Eyes on The Agent's Appearance?! Investigation of Target-group-related Social Effects of a Virtual Agent's Appearance in Longitudinal Human-Agent Interactions" ab.

Seit April 2018 ist Dr. Straßmann als Lehrkraft für besondere Aufgaben am Institut Informatik tätig und sammelt seit März 2019 als Teilnehmerin des Landesprogramms "Karrierewege FH-Professur" Industrieerfahrung bei der celano GmbH.

In ihrer Forschung beschäftigt sie sich hauptsächlich mit der Wirkung und Gestaltung von virtuellen Agenten und sozialen Robotern. Dabei betrachte sie beispielsweise Aspekte wie Erscheinungsbild oder non-verbales Verhalten, um Technologien optimal an Bedürfnisse von Menschen anpassen zu können. Die Vision einer positiven, hilfreichen und adaptiven Technologiegestaltung, welche zum gesellschaftlichen Wohl beiträgt, ist stetiger Motivator ihrer Tätigkeiten.
ARBEITS- UND FORSCHUNGSSCHWERPUNKTE
Mensch-Technik-Interaktion
Soziale Wirkung von virtuellen Agenten und sozialen Robotern
Langzeit-Interaktionen mit KI-basierten Systemen
Persuasive Wirkung von innovativen Technologien
Positiver Einfluss von innovativen Technologien
LEHRVERANSTALTUNGEN
Angewandte Statistik
Software Ergonomie und Usability Engineering
Kognitions-,  Kommunikations- und Medienpsychologie
Kompetenzentwicklung
Betreuung von Qualitfikationsarbeiten und studentischen Projekten
AUSGEWÄHLTE PUBLIKATIONEN
 

2020

12.

Receiving Robot's Advice: Does It Matter When and for What? Konferenzbeitrag

In: International Conference on Social Robotics, S. 271–283, 2020.

11.

Moral robots? How uncertainty and presence affect humans' moral decision making Konferenzbeitrag

In: International Conference on Human-Computer Interaction, S. 488–495, 2020.

10.

Age-Related Differences in the Evaluation of a Virtual Health Agent's Appearance and Embodiment in a Health-Related Interaction: Experimental Lab Study Artikel

In: Journal of Medical Internet Research, Bd. 22, Nr. 4, S. e13726, 2020.

9.

Language Learning with Artificial Entities: Effects of an Artificial Tutor's Embodiment and Behavior on Users' Alignment and Evaluation Konferenzbeitrag

In: International Conference on Social Robotics, S. 96–107, 2020.

2019

8.

Relax Yourself-Using Virtual Reality to Enhance Employees' Mental Health and Work Performance Konferenzbeitrag

In: Extended Abstracts of the 2019 CHI Conference on Human Factors in Computing Systems, S. 1–6, 2019.

7.

Dominant and submissive nonverbal behavior of virtual agents and its effects on evaluation and negotiation outcome in different age groups Artikel

In: Computers in Human Behavior, Bd. 90, S. 397–409, 2019.